Prayer
From the Akathist of Thanksgiving
In the name of the Father and the Son and the Holy Spirit.  Amen.
I was born a weak, defenseless child, but Thine angel spread his wings over my cradle to defend me. From birth until now Thy love hath illumined my path, and hath wondrously guided me towards the light of eternity; from birth until now the generous gifts of Thy providence hath been marvelously showered upon me. I give Thee thanks, with all who have come to know Thee, who call upon Thy Name:
Glory to Thee for calling me into being; glory to Thee, showing me the beauty of the universe.
Glory to Thee, spreading out before me heaven and earth, like the pages in a book of eternal wisdom.
Glory to Thee for Thine eternity in this fleeting world; glory to Thee for Thy mercies, seen and unseen.
Glory to Thee through every sigh of my sorrow; glory to Thee for every step of my life's journey, for every moment of glory.
Glory to Thee, O God, from age to age!
---
Today's Readings
Read the following scriptures attentively and apply the words to your own life. What message can you learn from it today?
Epistle Reading
The reading is from St. Paul's Second Letter to the Corinthians 9:6-11
Brethren, he who sows sparingly will also reap sparingly, and he who sows bountifully will also reap bountifully. Each one must do as he has made up his mind, not reluctantly or under compulsion, for God loves a cheerful giver. And God is able to provide you with every blessing in abundance, so that you may always have enough of everything and may provide in abundance for every good work. As it is written, "He scatters abroad, he gives to the poor; his righteousness endures for ever." He who supplies seed to the sower and bread for food will supply and multiply your resources and increase the harvest of your righteousness. You will be enriched in every way for great generosity, which through us will produce thanksgiving to God.

Gospel Reading
Luke 9:44-50
The Lord said to his disciples, "Let these words sink into your ears; for the Son of man is to be delivered into the hands of men." But they did not understand this saying, and it was concealed from them, that they should not perceive it; and they were afraid to ask him about this saying. And an argument arose among them as to which of them was the greatest. But when Jesus perceived the thought of their hearts, he took a child and put him by his side, and said to them, "Whoever receives this child in my name receives me, and whoever receives me receives him who sent me; for he who is least among you all is the one who is great." John answered, "Master, we saw a man casting out demons in your name, and we forbade him, because he does not follow with us." But Jesus said to him, "Do not forbid him; for he that is not against you is for you."
Meditation
In the epistle reading today, St. Paul reminds us to be generous with our time, our resources, our talents and our money. He likens it to a farmer who plants seeds. If the farmer only sows a few seeds, he'll only reap a small harvest. But if he sows many seeds, he will reap a much larger harvest.
This principle applies to many areas of our lives. For example, the more time we spend in prayer during the week, the more we will experience a deeper encounter with Christ at the Divine Liturgy. The more we go to confession, the more we will be purified and strengthened by the grace of God. The more time we spend with our children, our spouses, our parents, our relatives, our friends, our priests and our bible, instead of with the TV or smartphones, the more we will enrich our lives and relationships exponentially.
In the epistle reading, St. Paul is speaking also specifically of how we spend our money. If we set aside more of our money to support humanitarian efforts such as helping the poor, the orphans, feeding the homeless, and many other causes instead of spending it on new cars, clothing, technology, entertainment, vacations, etc., the more we can make an impact on our suffering world and lay up treasures for ourselves in heaven.
The biblical mandate is for us to give 10% of our income back to God. That means if you earn 50K a year, you would set aside $5000 of that and share it with others throughout the year. Who you decide to give to is completely up to you. You could give it all to one place or divide it up to, for example, a local charity, an orphanage overseas, a monastery, your parish, or just a friend or stranger who is in need.
Imagine if everyone did this. But, unfortunately, most people don't. For example, according to the statistics of the Greek Orthodox Archdiocese, most households give less than 1% of their income to stewardship. Most people will first pay all their expenses which include not just essential bills but also our frivolous purchases, and then give back to God from whatever is leftover. Imagine if God gave us his leftovers. Imagine if he used the elements to create a beautiful world and then whatever water and sun and earth he had leftover he threw into a little pile and put us there to live instead.
God knows us very, very well. He knows what we desire, what we're interested in, what we spend our time and money on. He knows our thoughts and how we sit and negotiate with ourselves how much money to give to others yet very easily and quickly purchase things for ourselves without hesitation. Because we live in a very consumer driven society that runs on instant gratification (Amazon.com), we lose track of just how much we're spending on ourselves and how little we are sharing with others. But God sees it all and we will be held accountable for how we spent the resources he gave to us.
Another by-product of this mentality is that we base everything on value (what we get out of it) rather than on responsibility (what God expects of us). For example, the value-based mentality says: "If I attend my parish only once a year, then why should I support it?" Or, "If I'm not getting anything out of going to church, why should I give money to it?" To this I would say we should first find out why you're not attending more than once a year and why you're not getting anything out of church and fix that problem. In other words, there are bigger spiritual issues keeping you away which in turn affects how you think of the church, what the church can do for you and why you would care to support it. As Christ said, "where your treasure is, there will be your heart also." If your heart is in the church and with God, you won't even need to be asked to give but you will be the cheerful giver that God loves. Because what you have received is priceless and no value can be placed on it.
We have to change our mentality. God says that the more we give the more we will receive in return. Does that mean we should give in order to receive a reward? No! It means the more we practice loving and caring for others, the more we will be like God and this is the reward and whole purpose and goal of our Orthodox life: to know God by experiencing and sharing his love with others. But as St. Paul says in the epistle, the bonus is that for our generosity, God will also grant us rewards and blessings for our family and children in a variety of other ways that we cannot even imagine. Yet neither should we have any expectations or to test God to see what we'll get. But we should simply see ourselves, in all humility, as co-caretakers of God's creation who show love and compassion for others as he shows every day to us. This is the mentality and spirit of gratitude and righteousness we are called to live by and what it means to be a cheerful giver.
Glory to the Father and the Son and the Holy Spirit.
From the Holy Fathers
As thou takest thy seat at table, pray. As thou liftest the loaf, offer thanks to the Giver. When thou sustainest thy bodily weakness with wine, remember Him Who supplies thee with this gift, to make thy heart glad and to comfort thy infirmity. Has thy need for taking food passed away? Let not the thought of thy Benefactor pass away too. As thou art putting on thy tunic, thank the Giver of it. As thou wrappest thy cloak about thee, feel yet greater love to God, Who alike in summer and in winter has given us coverings convenient for us, at once to preserve our life, and to cover what is unseemly. Is the day done? Give thanks to Him Who has given us the sun for our daily work, and has provided for us a fire to light up the night, and to serve the rest of the needs of life. Let night give the other occasion of prayer. When thou lookest up to heaven and gazest at the beauty of the stars, pray to the Lord of the visible world; pray to God the Arch-artificer of the universe, Who in wisdom hath made them all. When thou seest all nature sunk in sleep, then again worship Him Who gives us even against our wills release from the continuous strain of toil, and by a short refreshment restores us once again to the vigour of our strength. Let not night herself be all, as it were, the special and peculiar property of sleep. Let not half thy life be useless through the senselessness of slumber. Divide the time of night between sleep and prayer. Nay, let thy slumbers be themselves experiences in piety; for it is only natural that our sleeping dreams should be for the most part echoes of the anxieties of the day. As have been our conduct and pursuits, so will inevitably be our dreams. Thus wilt thought pray without ceasing; if thought prayest not only in words, but unitest thyself to God through all the course of life and so thy life be made one ceaseless and uninterrupted prayer."
+ St. Basil the Great 
Saints of the Day
The saints are alive and love us. They intercede for us before the throne of God. We read their lives so that we may be inspired to imitate their faith, courage and devotion to our Lord Jesus Christ and the Holy Theotoko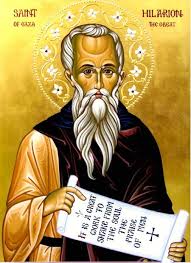 Hilarion the Great
This Saint was born at Tabatha, near Gaza in Palestine, of pagan parents. Sent as a young man to Alexandria to be educated, he learned the Christian Faith and was baptized. While in Egypt he heard the fame of Saint Anthony the Great, and upon meeting that truly great man, the Father of monks, Saint Hilarion determined to devote himself also to the ascetical life. He returned to Gaza, when, he gave himself over to extreme fasting and unceasing prayer. Because of the miracles which he soon began to work, he found himself compelled by his growing renown to leave Gaza, to escape from the throngs of people coming to ask his prayers. In his journeys he visited Egypt, and came again with longing to the place where Saint Anthony had lived; but he was not able to remain in any one place for long, since despite all his attempts to conceal himself, the light of the grace that was in him could not be hid. After passing through Egypt and Libya, and sailing to Sicily, he came at last to Cyprus, where he ended the course of his life at the age of eighty, in the year 372.
Martyrs Theodote and Socrates 
Righteous Philotheus 
Daily Act of Kindness
Don't interrupt when someone else is speaking but allow them to finish. Instead of thinking of your response the whole time, listen carefully to what they say. 
Prayer
Conclude your time with God by sitting or standing for 5 minutes and repeating the Prayer of the Heart:
Lord, Jesus Christ, have mercy on me.