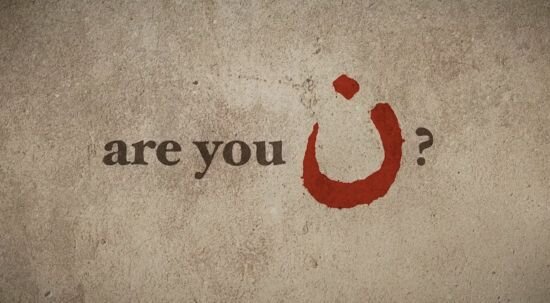 When the Islamic terrorists known as ISIS where rampaging through Syria and Iraq a few years ago, as they were going through the villages and towns, whenever they found a home of a Christian family or a Christian business, they would take a can of red spray paint and write the letter "n" in Arabic, on the wall of the house, and draw a circle around it. This was to identify the occupant of the house, to mark them as "Nazarenes" or Nasraye in Arabic. Their intent was to intimidate the Christians. It was a warning that unless they abandoned their homes and properties within 48 hours, they would be killed. Many suffered that fate, but many also stood up fearlessly against it and despite all the threats, the bombs, the war, the kidnappings and forced slavery, the death, crucifixions, rape and mutilations, they refused to deny Christ, they refused to leave, despite all that danger, they still went to church to worship God on Sunday morning.

For the earliest followers of Christ, the word "Christian" was also originally a mocking and derogatory term but it became the identifier of an entire civilization. The cross was originally a symbol of shame but it became a symbol of victory. This act of spray painting the letter "n" for "Nazarene" on the walls of Christian homes was also intended to mock and intimidate, but instead it became a worldwide symbol of courage and faith.

What about us? Is it possible that we could face this kind of persecution someday? Will there come a day when people will remember us and say "they were called Nazarenes"? Will we be worthy of that name? We do not have bombs falling on us. No one is marking the walls of our homes with letters. No one is threatening us or killing us. We have all the freedom and opportunity to worship, to build, to grow, to share with others the fullness of the Christian faith that is only found in Orthodoxy. Are we taking full advantage of this opportunity in this moment in time? Or are we taking it all for granted?
The persecuted Christians of the Middle East, of Greece and Asia Minor, of Russia, of Africa, of China, will be remembered as courageous Nazarenes, as faithful Christians. We have to ask ourselves, in all honesty and in all humility, what will the world remember about us, the Orthodox Christians who lived in the United States, in Napa-Solano county? What will we be known for? If it will be only for our food festivals, concerts, crab feeds, dance groups, and beautiful architecture then there's something very, very wrong.

How we will be remembered in the future will be determined by how we succeed or fail in remembering and living out who we are as Christians and the Faith we have received; what our brothers and sisters were martyred for.

St. Paul repeatedly tells us what we must do and who we must be in order to also be called Nazarenes and Christians:
Therefore, as God's chosen people, holy and dearly loved, clothe yourselves with compassion, kindness, humility, gentleness and patience. Bear with each other and forgive one another if any of you has a grievance against someone. Forgive as the Lord forgave you. And over all these virtues put on love, which binds them all together in perfect unity.
Let the peace of Christ rule in your hearts, since as members of one body you were called to peace. And be thankful. Let the message of Christ dwell among you richly as you teach and admonish one another with all wisdom through psalms, hymns, and songs from the Spirit, singing to God with gratitude in your hearts. And whatever you do, whether in word or deed, do it all in the name of the Lord Jesus, giving thanks to God the Father through him.
We can worship on behalf of those who have no place to worship. We can live the Orthodox life in our homes, in our families, in school and our jobs. We can struggle to become holy, to repent, to purify our hearts and minds and souls through prayer, fasting, confession and love for others. We can be stewards of our church, caring for it out of love for our heavenly Father's house. Only in this way are we truly deserving and worthy of being called by the name of Orthodox Christians.