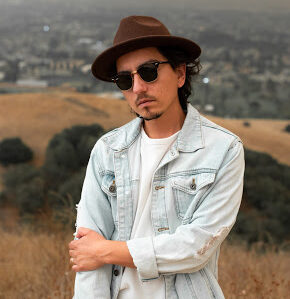 My name is Eduardo and I have been Orthodox for a little over two months now. My Journey into Orthodoxy began a few years ago when I met my wife.
I was raised in a very traditional Mexican family and practiced Catholicism most of my life. I'd like to think I was fairly involved: I went to church on Sundays, took communion, and attended after-church events. I also took catechism classes, and did my first communion.
I was never particularly excited about going to church as a kid. In fact, I dreaded Sundays because they always started with my family in total chaos rushing around to be the first people in church in order to have the best seat in the house.
As I got older and my parents started losing control of what I could and could not do, I stopped attending church. I did not think it was for me and apart from that, I could never understand nor pay attention because it was in spanish. Yes, I do speak spanish but there are a lot of terms that I could not understand and did not care to. This did not necessarily mean that I was not spiritual, because I was; I just thought that I could pray periodically in the comfort of my own room and be just fine.
From that point on, religion became a bit of a rollercoaster and I wanted nothing to do with it. I was diagnosed with cancer in the lymph nodes when I was 20 years old and went back to my church to seek guidance. I have to admit that my faith is what kept me going strong through the process. However, the problems began when I felt like everyone that I encountered was shoving their religious beliefs down my throat and once again, I began backing away from the church as the years went on.
In 2018 I met my wife while studying film in England and was introduced to Orthodoxy. By the end of the second week of our six-week long study, I had known that she was the one I was going to marry. That being said, I knew that if it was going to happen, I would have to be involved with her spiritually. As our relationship grew, so did my willingness to give religion another shot. It was not an easy thing for me to accept, but with time, and after finding my spiritual father, I opened up.
I was received into the Orthodox Church about two months ago and got married to the woman of my dreams a week later. We now attend liturgy every Sunday and try to be involved with the church in order to grow spiritually with each other.
My journey to Orthodoxy was not a long one–It was an expedited one–but I truly believe that it happened exactly how it was meant to happen.