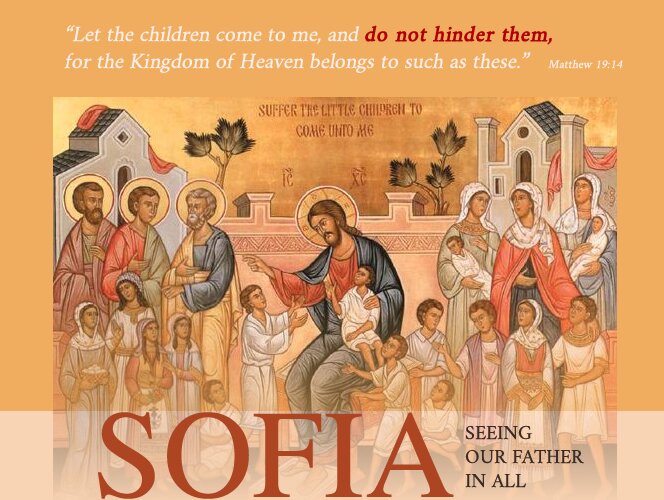 SOFIA (Seeing Our Father In All) is our weekly religious education ministry on Sundays, devoted to the spiritual formation of the children of our parish and the cultivation of an Orthodox Christian life and worldview in the home.
The program begins on Sunday, September 15. The theme for the 2019-2020 school year is "Rejoice!"
A unique approach to Sunday School
Our mission is to make Sunday mornings a time of wonder, discovery and spiritual growth of our children by including them as active participants in the liturgical and sacramental life of the Church as much as possible. Along with instruction in the teachings of our Orthodox Faith, our primary goal is to instill in the heart and mind of your child, through the grace of the Holy Spirit, a deep and abiding love for Jesus Christ, an Orthodox Christian worldview, and a desire to encounter and live in His presence through worship and personal prayer. Therefore, rather than Sunday school occurring after liturgy, the divine services of the Church will serve as the basis, content and environment for the spiritual experience and theological education of our children.

Responsibility of Parents
When parents strive to maintain a pious, Christian home and commit to attending church every Sunday, worshiping together as a family, a child will also learn to make their Orthodox Christian faith a priority, becoming a spiritually-oriented person who is able to discern what is godly and what is evil, regardless of whatever environment he or she may be in. Because such a person can truly "See Our Father In All," and remain full of hope, faith and love no matter what happens, confident in his or her Orthodox Christian identity and that "God is with us."
Program Schedule
9:00 a.m. – Matins Service begins
9:30 a.m. The Sunday school program begins in the upstairs loft of the church for young children (Pre-K through 3rd Grade). Older children (Grades 4 – 12) who are able to read, are invited to the chanter stand to assist Fr. Ninos with the readings and chanting of the hymns and prayers of the Matins service. A copy of these readings and hymns, a weekly lesson you can do with your child, will be sent to your family via email during the previous week.
10:00 a.m – The Matins service ends. All the children assemble in the front pew of the church for a discussion and Q&A with Fr. Ninos.
10:10 a.m. – The children rejoin their parents or family members and together we begin singing the Great Doxology and Divine Liturgy.
During Fellowship Hour – One Sunday a month, an additional activity may be offered for the children after the end of the Divine Liturgy, during the coffee and fellowship hour.
Registration
Please register your child or children today, using the convenient online form below. For questions, contact Fr. Ninos at 707-642-6916 or email fatherninos@gmail.com.