The first duty of a Christian, of a disciple and follower of Jesus Christ, is to deny oneself. To deny oneself means to give up one's bad habits, to root out of the heart all that ties us to the world; not to cherish bad desires and thoughts; to quench and suppress bad thoughts; to avoid occasions of sin; not to do or desire anything from self-love but to do everything out of love for God. To deny oneself means, according to the Apostle Paul, to be dead to sin and the world, but alive to God. 
St. Innocent of Alaska 
September, 2022
For Sunday, September 18 
Self-denial reveals our true self

by Fr. Ninos Oshaana
We have just celebrated the great feast of the Elevation of the Holy Cross. The gospel reading this Sunday will once again reflect the centrality of the message of the Cross and of self-denial in our spiritual struggle.
The uncreated Son of God denied himself and his heavenly glory, being willing to take on our created human nature and be born as a child; to live a life of poverty, to preach, teach and heal through his divine love, but be rejected and betrayed, imprisoned, judged, scourged, mocked, spat upon and crucified. By being willing to deny his true self as God in order to enter into and save our human nature, he not only gave us an example of self-denial to follow but also opened the way for us to regain our true self through Him...but only if we first deny our false self.
What is the false self? Through the love for pleasure and materialism; through failure to seek after the spiritual reality beyond our physical reality; through worshipping ourselves and the distorted ideas of our self-serving minds and completely ignoring God and His law; through the rejection of the reality of the soul and the after life; through the rejection of timeless truth and the natural order given by God in order to satisfy our carnal desires, we have nurtured our false self.  Therefore, self-denial is the crucifixion of this false self in order that we may reveal our true self.
What then is our true self? The answer is found in the very first pages of the Holy Bible.
"Then God said, 'Let Us make man in Our image, after Our likeness, to rule over the fish of the sea and the birds of the air, over the livestock, and over all the earth itself and every creature that crawls upon it.' So God created man in His own image; in the image of God He created him; male and female He created them. " (Genesis 1:27)
Being made in the image and likeness of God means that our original nature, our true self, was something far superior than the angels and the animals that God created. And therefore so was our purpose. In fact, the purpose of life for Adam and Eve was to attain Theosis, that is to grow in holiness and in the likeness of God; to become gods, i.e. divine. But through their disobedience, they lost the ability to attain this purpose and instead our glorious human nature devolved into a disfigured and fallen condition which made it impossible to reach our original destiny of Theosis.
For this reason, the Son of God was born into the world; to take on and restore our fallen human nature by joining it to his divine-human nature through his pure and sinless human body and soul. Therefore, all who believe in Christ are then joined to His divine-human nature in Holy Baptism. At that moment, our true self is born again or, more correctly, born from above (ἄνωθεν)  through union with Christ in the baptismal waters. From that point on, the image of God has been restored in us and we are made capable to attain His likeness again as well.
But we can only attain God's likeness if we truly struggle to be like him. Again, self-denial is the first required impulse, the first required action, that God himself showed us. It was self-denial that God asked of Adam by telling him to abstain from the forbidden tree. It was self-denial that God desired from us through the giving of the 10 Commandments to Moses, saying "Thou shalt not..." And finally, it was his own self-denial, even unto the cross and death through which we are saved. But as Orthodox Christians, we can only make Christ's self-denying sacrifice and salvation our own through living sacrificial lives of self-denial.
This happens primarily through our struggle to deny our self-serving and disordered passions of pride, greed, anger, gluttony, lust, envy, etc.  It is the ultimate art of self-mastery, without which there cannot be any true freedom. The false self is riddled with these passions which obscure us from seeing the image of God within us and others, rendering us unable to achieve God's likeness or Theosis as well.  However, when we struggle to deny these passions and control them, we open ourselves up to the grace of the Holy Spirit which grants us experiences of Christ's forgiveness, his love and presence and thereby we grow in love for Him and all creation.
Having struggled to achieve this state, St. Paul writes in the Epistle reading for this Sunday:
"I am crucified with Christ, nevertheless I live; yet not I, but Christ lives in me. And the life which I now live in the flesh, I live by the faith of the Son of God, who loved me and gave Himself for me" Galatians 2:20.
St. Maximus the Confessor points out how self-denial and repentance lead to this discovery of our true self in Christ with these words:
"Cleanse your mind from anger, remembrance of evil, and shameful thoughts, and then you will find out how Christ dwells in you."
So let us also struggle to purify ourselves through repentance, being aided by the Holy Spirit, our helper and comforter, that we receive through the Holy Sacraments, the greatest of these being the Holy Eucharist. Indeed, by receiving Christ's divine and life-giving Body and Blood, we are able to achieve what Adam lost, namely to become purified, illumined and divinized, because it is Christ's pure and holy blood that now runs through our own veins, transforming us into His likeness, if we cooperate with him and live a spiritual life that reflects the calling we have and the divine gift we have received.
As the image of God the Father, Jesus Christ is our true self. Being one with him and like him is the goal and purpose of life: Theosis.  We are called to fulfill our original and great destiny that God gave to Adam and Eve, that is, to become gods, a destiny that God has not revoked but has made possible through Christ. The first and last step on the road to this destiny will always be self-denial.
Click below to listen to the Sunday Sermon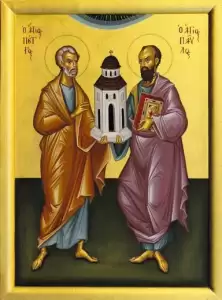 Epistle Reading
The reading is from St. Paul's Letter to the Galatians 2:16-20
Brethren, knowing that a man is not justified by works of the law but through faith in Jesus Christ, even we have believed in Christ Jesus, in order to be justified by faith in Christ, and not by works of the law, because by works of the law shall no one be justified. But if, in our endeavor to be justified in Christ, we ourselves were found to be sinners, is Christ then an agent of sin? Certainly not! But if I build up again those things which I tore down, then I prove myself a transgressor. For I through the law I died to the law, that I might live to God. I have been crucified with Christ; it is no longer I who live, but Christ who lives in me; and the life I now live in the flesh I live by faith in the Son of God, who loved me and gave himself for me.
In this epistle reading, St. Paul is trying to teach the Galatians how to understand the deeper meaning and purpose of the works of the law. The works of the law where the practices and rituals of the Jews that had been commanded by God through Moses and the Prophets. These were meant to serve as a way to keep the Israelites loyal to God by adhering to them faithfully. However, the works themselves could not save anyone. They were a guide and a map, but not the destination. Only through faith in Jesus Christ and being joined to Him through His Church can man be saved. So if we have this faith in Jesus, then what is needed is works of faith such as prayer, repentance, fasting, caring for the poor, self-denial, etc. which all lead to greater love for God and neighbor and thereby growth in God's image and likeness, even to the point where as St. Paul says, "Christ lives in me" 
Questions:
What do you think St. Paul means when he says, "I have been crucified with Christ"? Was he actually crucified? 

What do you think it would feel like to have Christ living in me?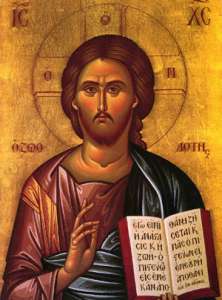 Gospel Reading
Sunday after the Holy Cross
The Gospel According to Mark 8:34-38; 9:1
The Lord said: "If anyone wishes to come after me, let him deny himself and take up his cross and follow me. For whoever would save his life will lose it; and whoever loses his life for my sake and the gospel's will save it. For what does it profit a man, to gain the whole world and forfeit his life? For what can a man give in return for his life? For whoever is ashamed of me and my words in this adulterous and sinful generation, of him will the Son of man also be ashamed, when he comes in the glory of his Father with the holy angels." And he said to them, "Truly, I say to you, there are some standing here who will not taste death before they see the kingdom of God come with power."
Are we ashamed of the teachings of Christ? Do we worry about what people will think of us? Do we hide the fact that we are Christians at work, at school and other public places? Why is that? Let us remember that America was founded on Judeo-Christian values and teachings. The idea of separation of church and state is not found anywhere in the Constitution. Instead, one of the main reasons for the Constitution is to protect the Church and religion from the government.  Sadly, in our modern society, too many people are confused about this and have forced God out of our schools and out of the public space.  We see the devastating consequences of this in our society, most notably with the horrific reality of school shootings that are becoming so commonplace. 
 Questions:
What are some ways we can deny ourselves and take up our cross?

Are there times you feel ashamed or shy about saying you're a Christian? Why is that?

How can we can show that we are Christians without using words?

Should we stand up for Christ and speak out when Christianity or Christians are being made fun of or persecuted?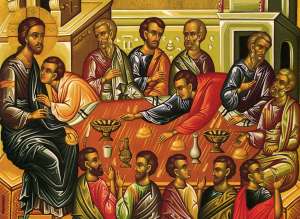 Blessed is the Kingdom
Having sung the hymn of the "Great Doxology" and the hymn "Today is Salvation come" the Divine Liturgy now begins. The priest turns and bows towards the people asking for forgiveness. Then he turns towards the altar, bows three times, kisses the gospel book and the holy altar table. Then he lifts up the Gospel Book and making the sign of the cross with it he exclaims loudly the words: "Blessed is the Kingdom of the Father and the Son and the Holy Spirit, now and always and unto ages of ages." This is a bold statement of faith in God and in God's Heavenly Kingdom, that it truly exists and that we, the people of God, are seeking to enter into it, not only when we die but right now, today, in this liturgy. The people affirm this faith and this desire by responding with the word Amen, which means, let it be, let this happen. 
Upon saying the word "Amen", we now join the heavenly worship of God offered by the saints and the angels which has always been happening since the creation of the world and will continue unto all eternity. In other words, when we come together for the Divine Liturgy, we are not creating or starting our own worship. Rather, we as the Church on earth, also called the Church Militant, are joining the Church in heaven, also known as the Church Triumphant, in the worship of God. Neither do we create our own words for the worship but rather use the words handed down to us from our ancestors the early Christians. And these words of the Divine Liturgy, when analyzed, are actually entirely inspired by, referring to, or directly quoted from words of the Holy Bible.  More on this next time. 
This week, let's listen and learn the shortest but most important prayer that we continually sing in the Divine Liturgy. The prayer is: "Lord, have mercy" 
Click the button below to download the sheet music.

View or print out the sheet music.

Click Track 3 - Lord have mercy below to listen to it chanted. Try to learn it and sing-along!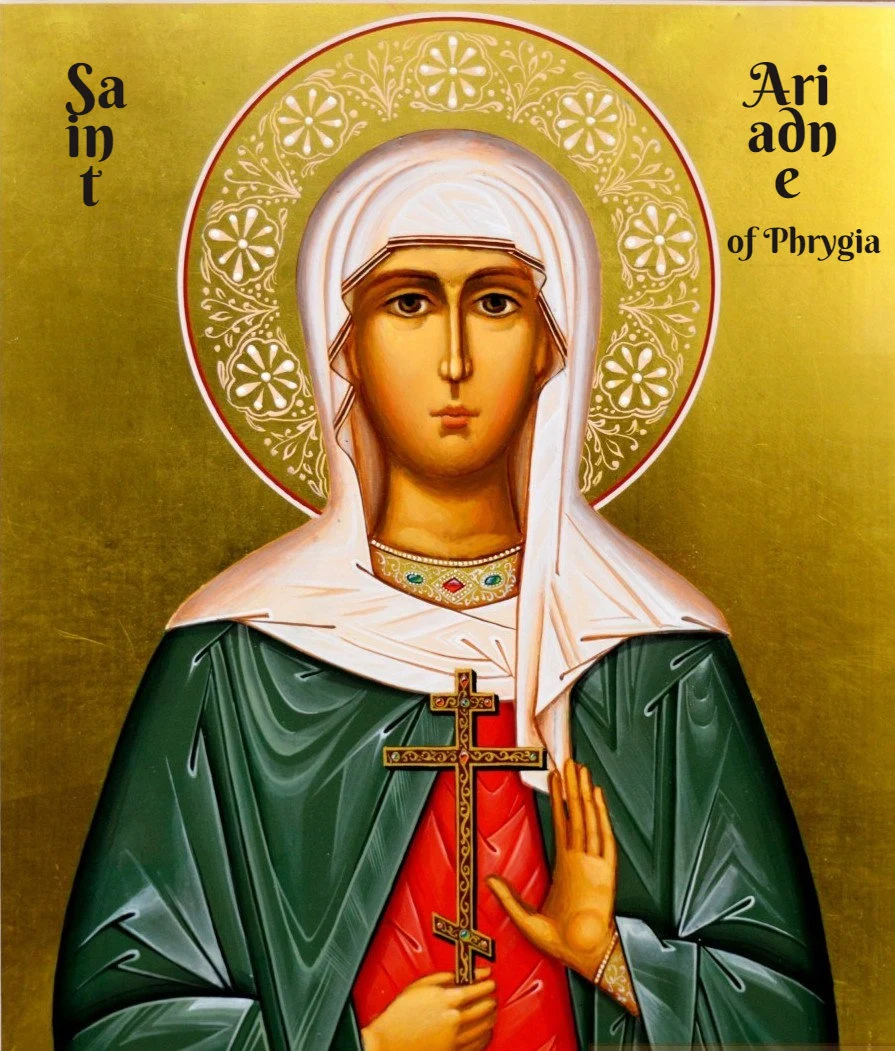 Martyr Ariadne of Phrygia
Ariadne was a servant of Tertullus, the chief ruler of the city of Prymenseos in Phrygia. With merrymaking and worshipping of idols in the temple, the ruler celebrated his son's birth with family and friends. Ariadne's master became indignant because she refused to accompany them to the temple. He punished her with flogging and scraping her with iron claws. To force her to deny Christ, he attempted to starve her in the dungeon, but finally, he sent her away. However, he had his men trail her, and as soon as her adversary approached, Ariadne prayed to God for deliverance. Suddenly, a large rock split open, and she entered it to hide. There she surrendered her spirit into the hands of Christ. One account says that angels of the Lord is sitting on horseback and bearing spears struck St. Ariadne's pursuers. (Source: Orthodox Calendar Company. Lives of Saints.)
In Saint Ariadne we see a tremendous example of remaining loyal to Christ, even if it means persecution and death. In the holy icons, martyrs are always shown holding a cross, as you see in the icon of the Martyr Ariadne. The martyrs for Christ are profound examples of the message of self-denial that we have been focusing on recently. Their ultimate act of self-denial was to deny themselves their very lives for the sake of living an eternal life with Christ.
However, by not denying ourselves and instead doing something or saying something that is a denial of Christ means that when we lose our earthly lives at our death, we will also have lost eternal life. So let us stay loyal to Christ through our self-denial and carrying our own cross through the struggle of the spiritual life. Even if we are not actually martyred for our faith as Ariadne was, by giving our life in service to Him by loving and serving his creation, he will in turn crown us with the crown of a bloodless martyrdom.
Thank you for participating in SOFIA! Look for an email notification next week when a new lesson page is posted. See you Sunday!